I share my home office with my husband who uses his half up to the MAX. He's got a drafting table, tons of art supplies, as well as tons of stuff like books, scanners, a couple of printers, joysticks (he's a gamer), whew! My half, on the other hand, is okayish. I've got a simple Ikea desk, an uncomfortable chair, a few simple storage boxes, and then a few fun things like a big, gold banner that says "Best Day Ever" left over from our wedding, a few air plants, and some super pretty, colorful markers and pens.
While I'd love one day to redo the whole office, this summer I'm going to focus on my zone. It needs a makeover. Nothing too massive. I've got most of the furniture I need, but I want to concentrate on making my space the happiest, most productive little home office it can be. Incorporating a lot of plants is going to be a big part of this home office makeover. I keep reading about all of the benefits of having plants in your home office, benefits like decreased stress and increased productivity, improved air quality, increased job satisfaction,  and improved sense of well-being. Plants don't just improve the air quality by removing carbon dioxide; they help filter out environmental toxins. They even help combat the horrible sounding Sick Building Syndrome. I thought some of you might be interested in what plants I plan on adding to my space.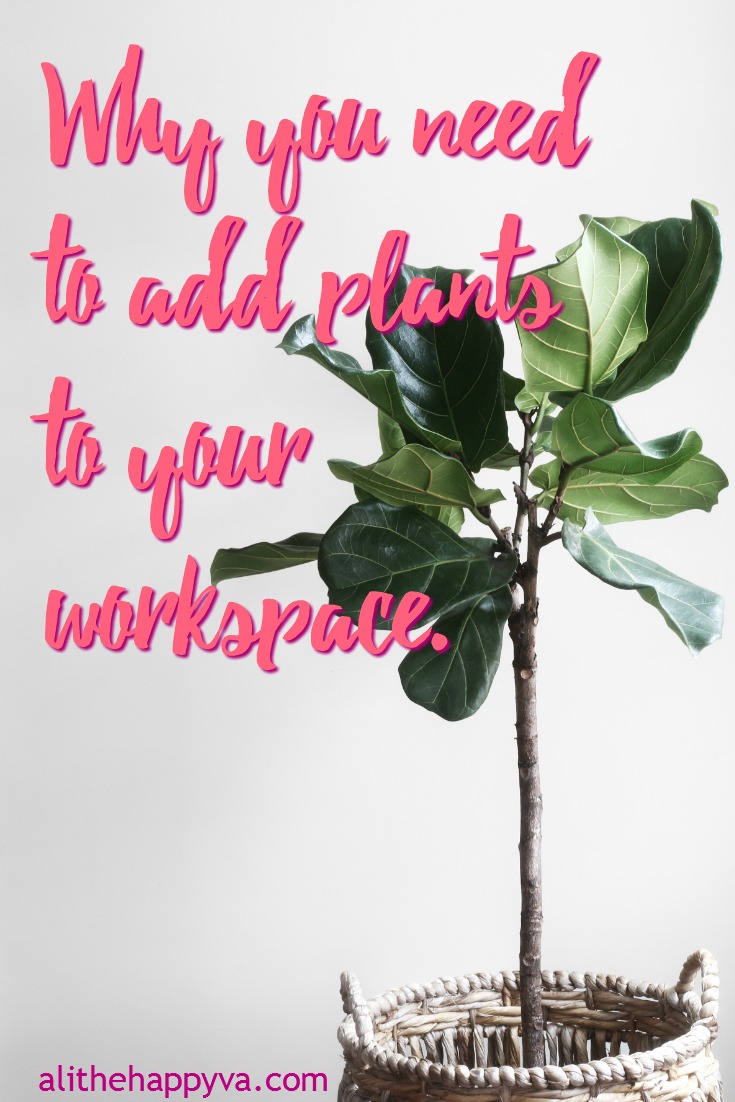 Ferns
I was really happy to hear that ferns are wonderful at cleaning up the air. More specifically, Boston ferns clean up formaldehyde as well as other toxins. We've got a ton of ferns (not sure what kind) growing outdoors all around us, and I just adore them. They look so lush and lovely.  Luckily, the Boston fern is the common fern seen in plant stores and hanging baskets. They like their environment cool, humid, and with indirect light according to Garden Know-How.  I'll be hanging, at least, one of these babies.  I feel like these would make a splash as a gift too. If anyone knows how to propagate these, I would love to hear how. I stuck a leaf in some water once to see if it would grow roots. It just looked pretty for a while and then died.
Snake Plant
Another star in the healthy air department is the "Mother-in-Law's Tongue" AKA The Snake Plant. This one cleans up a bunch of toxins. I also think these are gorgeous and add some interesting architectural elements to a space.  This one is super low key in the care department, apparently tolerating all sorts of light conditions and temperatures, just don't let the roots get too soggy.
Spider Plant
Spider plants are fantastic for the air quality, easy to care for, not hard to propagate, and the fill lots of space! I can't wait to have a bunch of these hanging all over the place though I might have to limit myself to just one in the office.  These like average temperature and humidity, sunlight, but not too direct, and to be kept moist, but not drenched, according to the Almanac.
Philodendron
I have a philodendron that I've had for TEN YEARS! I don't have a black thumb or anything, but I don't particularly have a green one either. These plants are magic. In my experience, they seem to tolerate all kinds of conditions and are another one that is easy to propagate so that you can have lots of philodendron babies! For more official information on their care, check out this article. They also seem to do a great job of removing air pollutants from their environment and can be beautiful in hanging baskets or in regular pots.
Succulents
Finally, I plan on adding succulents, air plants, and maybe a little cactus or two around my desk and on the windowsill to add some extra cheer and interesting textures.  I think that's about all I'll be able to comfortably fit though I know there are so many fantastic options.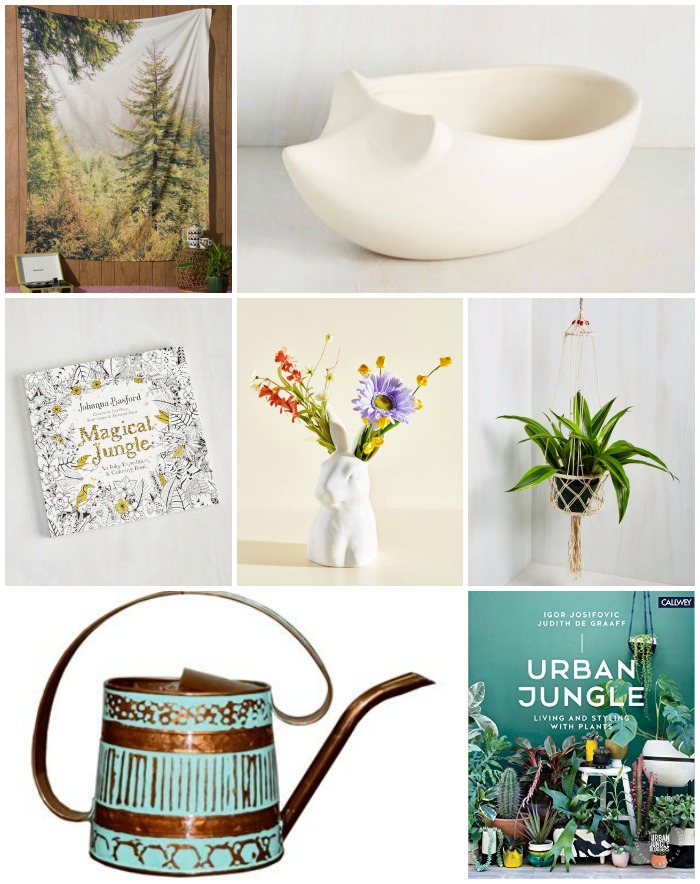 Clockwise from top left: Forest Tapestry // Hedgehog Planter // Macrame Planter // Urban Jungle Book // Watering Can // Magic Jungle Coloring Book // Hare Vase //
Here are some great accessories for your new plants in your workspace. Or, if you simply have zero light (or are so not a green thumb) and can't have plants, maybe a vase of fresh flowers or a coloring book will do the trick. I'm a little obsessed with the copper watering can.
Do you have plants in your office or your home?
Which ones worked out best for you? Let me know in the comments! I'd love to hear suggestions!
*This post contains affiliate links, which means that if you follow one of these links and make a purchase, I may receive a small commission at no additional cost to you. I will never share a product or service unless I believe in it.